It took a lot of searching out there to find a history of Mail Pouch... Not! There were these amazing Barns though! There are Barns out there all over used to advertise for Mail Pouch!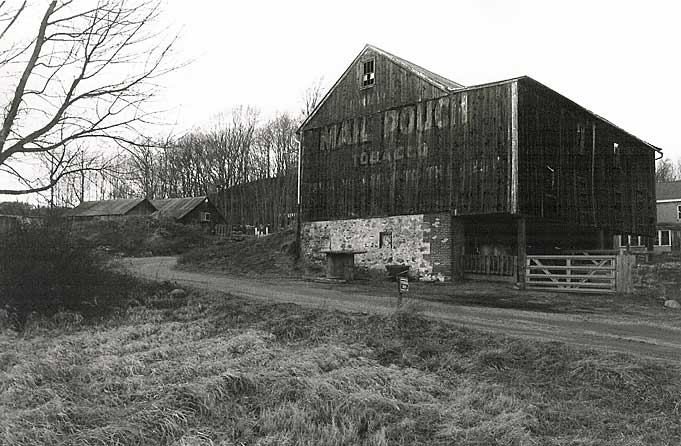 Barn, Old Route 100, South of Bechtelsville, Pennsylvania, 2002
CHEW / MAIL POUCH / TOBACCO / TREAT YOURSELF TO THE BEST
Dating from 1879 Aaron (18??-1903) and Samuel S. (1850-1937) Bloch of Wheeling, West Virginia, began manufacturing West Virginia Mail Pouch Tobacco. This was chewing tobacco packaged in a paper pouch resembling a mail pouch, hence the name Mail Pouch Tobacco. The Bloch Brothers Tobacco Co. (see history as of 1954 at Bloch Bros' 75th Anniversary) was incorporated in 1890, and they began their marketing strategy of painting ads on the sides of rural barns as early as the 1920's. Barn owners were paid a nominal fee ($1 or $2 yearly) and by having their barns painted (and repainted periodically). Mail Pouch barns were still being painted as late as the 1990's.
Meanwhile, the rights to Mail Pouch Tobacco had been bought and sole several times. In 1992 the owner of that time, Swisher International of Jacksonville, Florida, suspended use of the barns for advertising when the last of the great barn painters, Harley E. Warrick, of Belmont, Ohio, decided to retire. (But Harley continued to paint the signs (for fun) even in retirement (see Chasing Mail Pouch Barns by Eddie Robberts) until his death in November, 2000.)